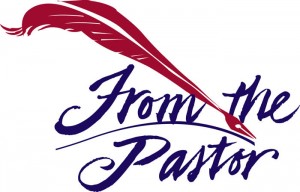 June, 2019
"A Fatherís Legacy"

For Joseph Dodson, the pressures and responsibilities of parenthood felt compounded when he and his wife adopted a son. Dodson, a Bible professor, wonders if Jesus' earthly father also struggled with doubts and fears.
Scripture doesn't say much about Joseph, but he clearly left Jesus "a significant legacy", Dodson writes in Bible Study Magazine. Joseph obeyed God — despite the risk to his reputation — by marrying a pregnant woman. Joseph, a son of David, raised the Son of David as his very own. To protect his family he fled to Egypt, foreshadowing the "new exodus" of Jesus' saving ministry. And Joseph heard neighbors mock Jesus as "the carpenter's son."
"Joseph taught Jesus much more than woodworking," Dodson writes. "He modeled for his adopted son how, for God's glory, he must drink the Father's cup no matter the cost."
Swaddled in God's Law of Love
Pastor John Edgerton tells of swaddling his 2-week-old baby to help her feel secure. She loved being wrapped tightly in a soft blanket and would lie quietly — until she managed to work a tiny arm loose. Then she'd scream until someone rewrapped her.
Edgerton likens that behavior to his own connection with God's law, given so people can live in peace. "I know that I'm supposed to do the right thing, but I'm always wiggling out of it", he writes. "And very quickly my life falls into a state of disarray."
We've all experienced this. We know we are to love our neighbors as ourselves, yet we often ignore their needs. Jesus says to love our enemies, but we wiggle around it: "That's too naïve for this day and age." But then relationships crumble, life feels crazy and we recognize that, in large part, we've done it to ourselves. Over and over, we wiggle out of the soft swaddle of God's law of love, only to flail. Thankfully, like a loving parent, God wraps us up anew, holds us close and saves us from ourselves — again.

© 2011– Jamestown UMC, All Rights Reserved