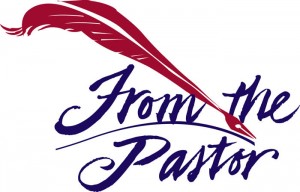 October, 2018
The Chance of a Lifetime
Recently I referred to the saying that goes something like this, "You could not step twice into the same river." It was written by a Greek philosopher named Heraclitus of Ephesus who lived around 535 – 475 BC. Heraclitus was known for his doctrine of change being central to the created order. As a result of change, some opportunities we encounter may never come again.
People talk of "the chance of a lifetime" to refer to an extremely important opportunity that is not likely to ever present itself again. All kinds of people use "chance of a lifetime" to get us to act on impulse buying. They try to get us to buy what they are selling at that moment, without thinking it through.
As Christians, we seek to do the opposite. We encourage people to think it through. We want them to think about the ramifications of either trusting or not trusting in Jesus as Savior and Lord. We want them to believe that Jesus is "the Christ, the Son of the Living God," as Peter said. We also want to create opportunities to get to know them and become credible witnesses for Jesus.
I recently met some people and took the opportunity to invite them to our Annual Harvest Bonfire and Weiner Roast. It is one of the best events we have for making new friends and having the opportunity to introduce them to members of the family of God. By these friendships, we hope to point people to faith.
This could be the chance of a lifetime for you to develop friendships and introduce people to others in the church. It could also be an opportunity to plant a seed of faith in their life by your love and care for them and their family members.
There are also ways you can help make our Harvest Bonfire a great success by your service for an hour or by donating supplies needed for the meal. Sign-up sheets are posted on the wall leading to the fellowship hall.
Invite your friends and family members. It may be the chance of a lifetime.

Blessings,

Pastor / Shepherd
© 2011– Jamestown UMC, All Rights Reserved