April 19, 2019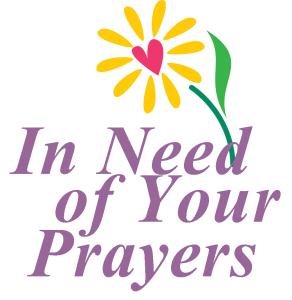 Email Prayer Chain list: Ever feel a little out of the loop? Would you like to be added to the email list for prayer requests? Please furnish your name & email address to Sharon in the office to add you to our list.
You may also add your name to the phone prayer chain. Just let Sharon know this also.
Please include the following people in your prayers:

Home Bound & Care Facilities:  Keith Cook, Faye Culp, Marilyn Judson, Janice Salmander, Lucille Stickel and Vernice Ward.

Ongoing Health Concerns:
Jerry & Sharon Angel (brother of Jim Angel), Monica Beane, Marla Dell, Barb Goodman, Julie Gordy, Betty Griffin, Kelley Kuhn, Don Miller, Leo Miller, Sue Raab, Shannon Sciba, Harold Sherp, Marti Stickel, Kathleen Stout, Matt Vogelzang and Lawrence Young.
Last week's Praise & Prayer requests:

Thank you to all who helped with the church work day
A Great Grandson born to Dick & Joan Briggs
Thank you all for your prayers and concerns we have received at the time of Dad's passing, RB Mahler
Joan Briggs; physical healing, pacemakerreplacement Monday
Lawrence Young; physical healing
Judi Shoemaker recently hospitalized
Patti Hochstetler; physical healing
Ethan Loft; physical healing, recovering from severe strep infection
Kate Niverson; physical healing, valve replacement surgery this week - Andrea Loft's Aunt
Nancy Weaver; physical healing, having surgery for brain tumor this Thursday - sister of Jim Angel
The family of RB Mahler
URGENT! Please give the following your immediate prayers:
Note: TheURGENT Prayer List will be updated more often than weekly as needed. Please check back often for those who need your urgent prayers.
© 2012– Jamestown UMC, All Rights Reserved