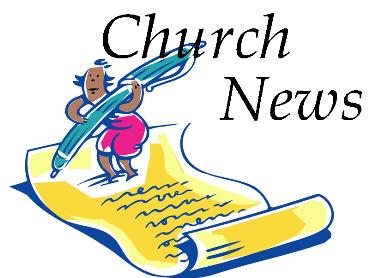 U p c o m i n g
N e w s & E v e n t s
• Loose Coin Offering — May
• Mission for Church Community Service
• Devotions & Drumming
•
United Methodist Men Sponsors Little League Team


• Craft Night — May 21st
• United Methodist Women — May 26th
• United Methodist Men's Breakfast — June 2nd
• Feed the Firemen — June 3rd
• Senior Luncheon — June 4th
• Red Bird Mission Trip — June 9th-15th
• Vacation Bible School — June 23rd-27th
• Missions Opportunity
• Two Rivers Cluster
• May 2019 Newsletter On-line

• May Loose Coin Offering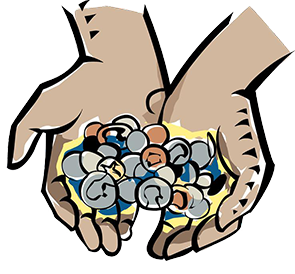 The May Loose Coin will be for our Red Bird Mission Trip in June.
The JUMC team to Red Bird Mission leaves June 9, 2019 for a week of projects that will benefit a candidate chosen by RBM for assistance. We hope to be the "miracle"in someone's life. The RBM is in a remote area of Appalachia in Kentucky underserved in many areas. RBM provides the link to many opportunities for area residents with a school, senior center, baby pantry and medical clinic. Our Loose Coin funds for May will help cover the costs of the service project and/or supplies in areas needed by RBM.
Jane Rapp & Missions Committee.
• Mission for Church Community Service
It's been a long standing tradition at JUMC to collect non-perishable food for Church Community Services on the first Sunday of each month. Collections have dwindled to very low levels recently. For the next few months, Missions will try a new approach to hopefully improve our contributions. Each month a designated product will be chosen and each family will be asked to bring one of that item sometime during the month which will be brought to CCS at the beginning of the new month. Let's work together to show God's love to our community.
Our food collection focus for May is: "Canned Fruit, Dried Fruit and Fruit Cups. Bring in your donation by the end of the month.
Of course, we will take any non-perishable food item you bring. Be watching and listening for the June 2019 donations.
Missions Committee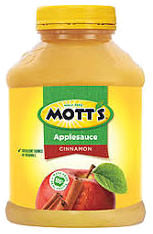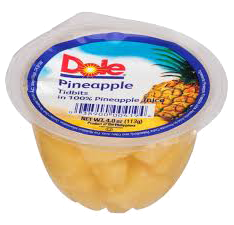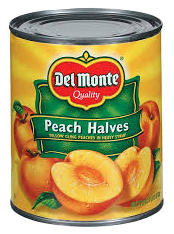 • Devotions & Drumming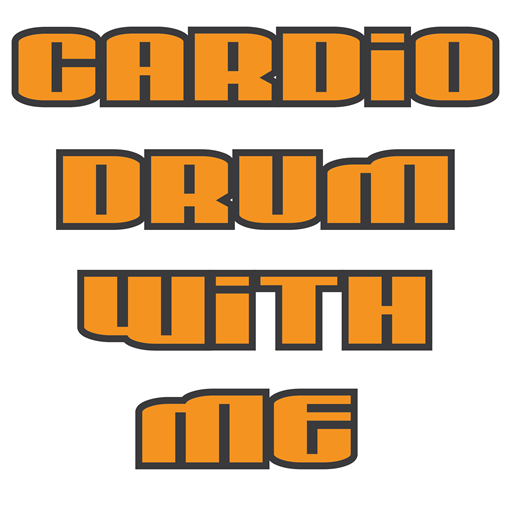 Exercise your body and your spiritual mind. Join us for Devotions and Cardio Drumming. We will meet in the Fellowship Hall on Wednesday and Friday mornings from 8:30-9:15 a.m. Schedule will be updated month-by-month. Check Calendars at left for dates.
This class is open to all ages and all levels of fitness. You will need an exercise ball, bucket and drumsticks. I hope you can join us for some lively music and fun exercise. Contact Roberta Mann if you have any questions.
• United Methodist Men Sponsors Little League Team

For the first time, the United Methodist Men are sponsoring a Baugo Little League team in the Minors division. The UMM have also donated 130 baseballs to the team. We wish the team good luck this summer.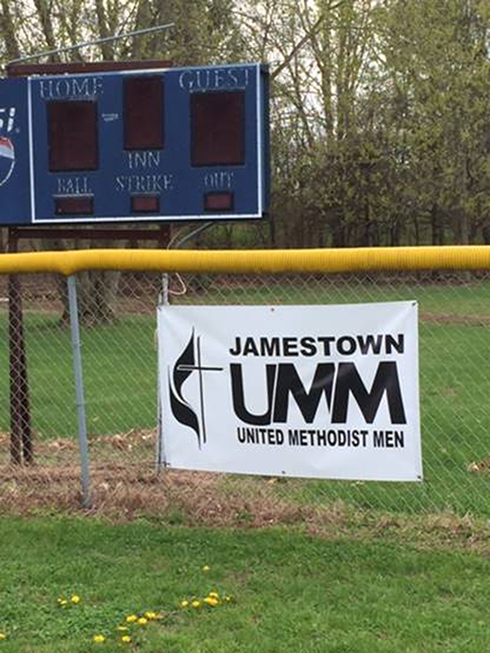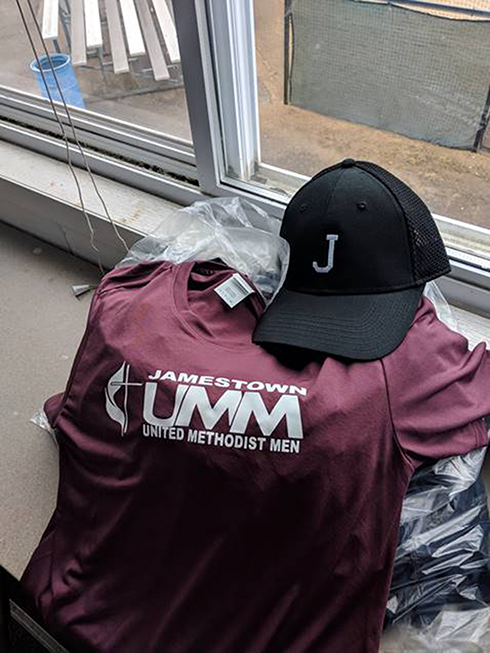 • Craft Night

Join us for a fun evening of scrapbooking & crafts. We will work from 6:00 p.m. to ?? on the 4th Tuesday of the month. Bring your projects and join with fellow crafters. You may bring a snack to share. We will have some equipment available for you to use and a few supplies to purchase.
Call Jane Rapp at 262-1975, or Paula LaPlace, 294-1056, if you have any questions. There is no charge for this event. Bring your friends!
Next Craft Night: Tuesday, May 21st
• United Methodist Women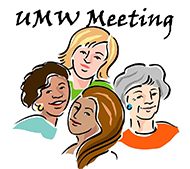 The UMW meets on the 4th Sunday morning at 7:45am prior to service. They meet in the "Builder's" classroom downstairs. The next meeting will be May 26th. Please plan to join them. They have a light breakfast as well.
• United Methodist Men's Breakfast



The United Methodist Men will meet for breakfast on Sunday,
June 2nd at 7:00am.

Join us for a hearty breakfast and fellowship.
• Feed The Firemen Project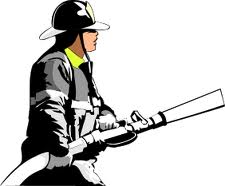 In Building Bridges to the Community, Jamestown UMC is sponsoring the Feed the Firemen project. This project involves preparing a meal for the Baugo Township Fire Department on the first Monday of each month.
What is a Volunteer Fireman? Click Here
Current members of BTFD and church members or family of a church member who are serving or have served on the department. Click Here
In "Building Bridges to the Families of the Community", we need volunteers to prepare meals for the next training session on June 3rd. A sign-up sheet is on the bulletin board or contact Deb Beehler to volunteer.
This is a wonderful opportunity to provide a service to the firefighters who put their lives on the line to serve the families of Baugo Township. The Baugo Township Fire Department is definitely a "Family" in our community.
Volunteers should prepare dishes for approximately 15 firemen. The meal should be placed in aluminum foil pans and taken to the fire department building by 6:30 p.m. The firemen will be involved in a training program and will eat in stages. Using throw-away pans assures that dishes will not be lost or require pick up. The meal should consist of meat, vegetable, salad or potato and a dessert.
• Senior Luncheon




Senior Luncheon will meet next on June 4th. Bring a dish to share and enjoy good food and fellowship.
• Red Bird Mission Trip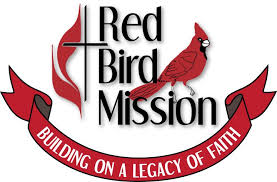 On June 9th, a group of 11 or 12 JUMC members will be making the journey south to the Red Bird Mission in Kentucky to give a lending hand to the Mission. Our exact assignments are not yet known except that we know that we will be doing God's work to help the people of that area.
• Vacation Bible School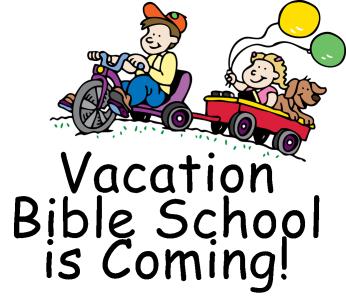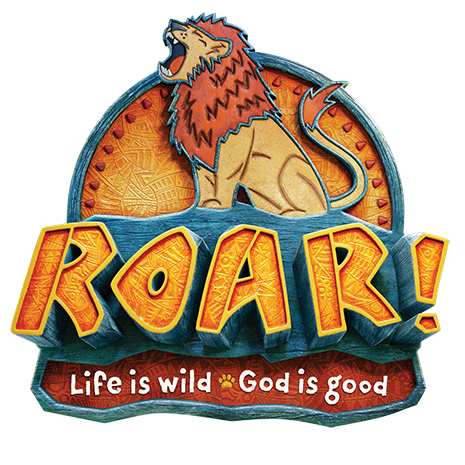 SAVE THE DATE!
Jamestown UMC will be holding their Vacation Bible School June 23rd—June 27th. More information will be posted here as the planning progresses. This year's theme is "ROAR: Life is Wild/God is Good". Plan on bringing your children, grandchildren, their friends and neighbors for lots of fun.
• Missions Opportunity
Missions are more than financially supporting worthwhile organizations. There is also a call to provide services to those in need on a personal level. Missions Committee has found a need at the Elkhart County Corrections Facility that we could fill. During visiting hours, which are on Thursday through Sunday from 4:30pm to 9:30pm, the children of families coming to visit their loved ones have little or nothing to occupy their time. This compounds an already stressful situation. Having people there to read to the children will benefit them and their families during their time there.
Please consider in your heart if this would be a way for you to serve the Lord.
• Two Rivers Cluster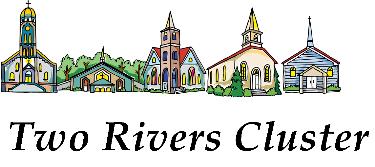 Follow News & Events for the Two Rivers Cluster Churches. This page has photos of the Two Rivers Cluster churches and links to their websites. Other information about our Cluster will also be posted on this page.
Visit Two Rivers Cluster.
• Monthly Newsletter On-line
The May 2019, Jimtown OpenLine, is now available on the website.
The newsletter is in PDF format so you will need to have Adobe Reader (or an equivalent program) to view it. Click here Newsletters or on the "Newsletters" link at the left.
© 2011– Jamestown UMC, All Rights Reserved